Building Brand Consistency
Instead of limiting our scope to the existing planogram, we saw a bigger opportunity to set Samsung apart by creating a consistent, premium in-store experience in all U.S. Cellular locations. Samsung couldn't display devices just like every other OEM. Leaning on our extensive brand experience and our Five Zones of Retail approach—Attract, Learn, Experience, Remind, and Talk—we knew we had to take it further.
Bringing the Product to Life
Instead of drowning in a sea of sameness, we wanted to:

Build a memorable space to help the
Samsung brand stand out.

Maintain the premium look
and feel of the brand.

Create a beacon that draws consumers to interact
with Samsung devices on display.
Developing Scalable Environments
When exploring concepts for this unique space in U.S. Cellular, we started with the fleet of scalable, premium fixtures we had recently created for Samsung's flagship retail look. In developing that fixture fleet, our big-picture, long-term thinking informed our decision to create designs that would be scalable depending on the store footprint to execute similar Samsung destinations in various types of retail locations.

This scalability paid dividends at U.S. Cellular because we were able to build destinations that carried through a consistent brand look and experience that accurately represented Samsung across each location.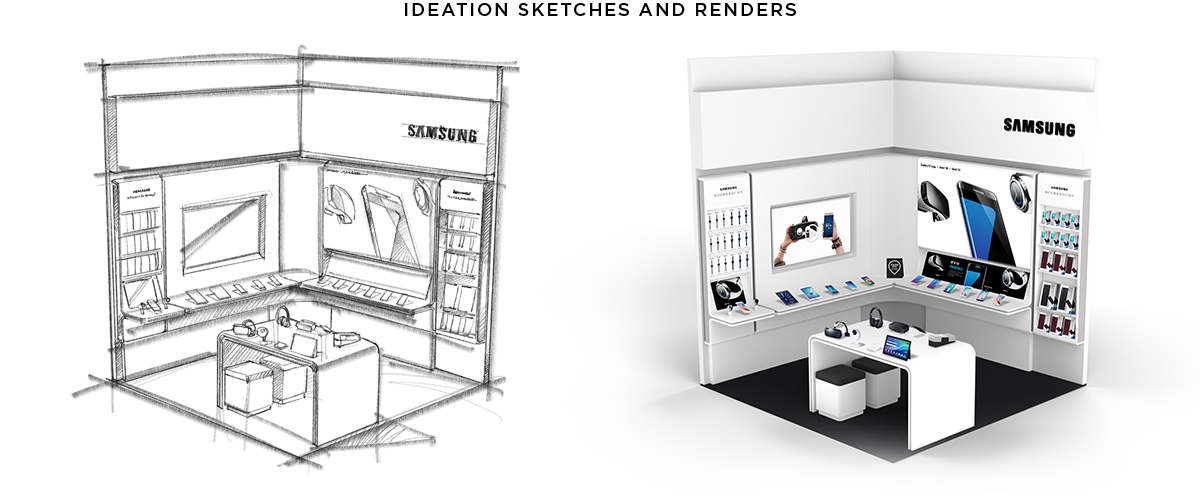 Satisfying All Stakeholders

U.S. Cellular got the same sleek, premium look
to accentuate its store locations.

Samsung brand got dedicated space to
showcase its premium devices.

Consumers got the space to learn and interact with products
to aid in the decision-making process.